YOU DON'T KNOW MUCH ABOUT ROOFING?.....
WE DO!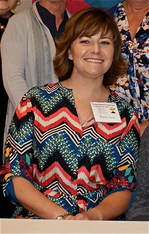 ​WEATHERGUARD ROOFING ​is owned and operated by Arkansas Natives,
Scott McCown and Ronna Smith.

Ronna handles our business affairs,
Every job starts and ends with Ronna.
We give every customer our personal attention. You and your roof are important to us, you're never just a number at Weatherguard Roofing.
We look forward to becoming your roofer, for THIS roof and all your roofing needs in the future.
Along with business affairs, Ronna handles all of your flower and landscaping protection concerns.
Ronna is our color specialist as well. It's not everyday that you pick out something for the outside of your home, that may potentially be there for 30 YEARS. But Ronna does!! Over the past 20 years Ronna has helped home owners with every issue from being afraid that a black roof will make their house hot, all the way to wanting to make sure their shingle doesn't look like a cat breed they dislike...yes, true story.

Scott is a licensed roofing contractor and our lead salesman. Let Scott decipher all those stressful insurance papers. It is easy to overlook funds that have already been allotted to you in your insurance estimate. Scott can make sure you get all you need and deserve for your roof replacement. Don't let misunderstanding terms like depreciation, keep you from having the best roof possible.
We don't only do full removal and replacement, We also do many partial roofs and small repairs.
Scott always gives FREE ESTIMATES AND INSPECTIONS. Finding HAIL DAMAGE sometimes can be difficult. And talking to your insurance agent with respect and in a professional manor, with the correct manufacturer and insurance company specifications and facts can be crucial. Remember, we work with The insurance companies everyday. Choose Weatherguard Roofing to handle your reroof or roof repair.

HAVE A LEAK?.... when it comes to roof leaks, Scott is a true trouble shooting expert.
This is one area where it really pays off to talk to someone that is a specialist in this area.
We are local, we can and will come back again and again to help you locate and eliminate your leak.
New construction is an entirely different line of the roofing industry. Our years of working on existing roofs, gives us a big advantage at trouble shooting your problem. Give Scott a try, I think he'll amaze you.
He helps remedy these roof issues when nobody else can.

With every roof replacement comes loose nails and a clean up crew. But with Weatherguard Roofing, most all roofs come with a secondary clean up by Ronna or Scott themselves. We take pride in our clean up skills, and making as little mess as possible to begin with. Not only do we roll a magnet over your lawn, flower beds, decks, and driveways....
​we also roll the street in front of your home AND the homes next door.
WE CARE FOR THE SAFETY OF YOUR CHILDREN, PETS, AND LAWN
*We realize keeping gates closed at all times can be crucial.
*We roll a magnet over your lawn and play areas, for loose nails.
*We NEVER use a dumpster
*It is our policy to NEVER drive or park in your Lawn...the thought of this makes us cringe!

---
Site powered by Weebly. Managed by
Bluehost